UNLOCK THE ENTREPREURSHIP.
WE ARE STARTING A SERIES OF WEBINAR ON DIFFERENT SUBJECTS BI – MONTHLY STARTING FROM 31ST OCTOBER2020.
Subject: "Startup Opportunities in Aero Space Engineering-Electronics Industry".
Speaker: Dr. Arun Surendran. Strategic Director and Principal, Trinity College of Engineering, Thiruvananthapuram and Senior Fellow, DRaS Thinktank. Inauguration Sri. A P M Mohammed Hanish I A S, Secretary Industries Department, Government of Kerala.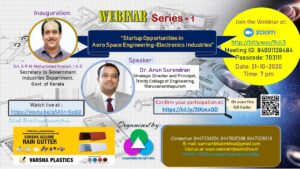 Register your name in advance at: https://bit.ly/3lKmxQD
Join the Zoom webinar at: http://bitly.was/9UL5
Meeting ID: 84001138484
Passcode:703111
Watch live at : https://youtu.be/q5A5n-GpjQI